Naughty or Nice III Slots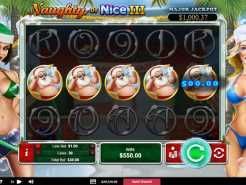 Current Jackpot
$5,872.81
Play Now
The Naughty Or Nice slot series continues to draw a global audience to many Real Time Gaming Casinos that host this decadent, mature title. Naughty Or Nice 3 is the ultimate adult-oriented slot game in this sensual trinity. Online gamblers can expect the Naughty Girl or the Blonde Girl to factor heavily in the bonus rounds.
Real-Time Gaming Is A Slot Game Genius
Real-Time Gaming is not only one of the elder statesmen in the online casino world. It continues to be a haven for magical and rewarding five-reel games and, nowadays, six-reel games, but Real Time Gaming extends its slot game greatness through the corridor of intricate bonus rounds and high interactivity. Both of these rewarding features and more are available in Naughty Or Nice 3.
Practice Putting Up This Virtual Christmas Tree
Real-Time Gaming continues leading the pack by crafting slot games with practice play. So it might be a good gaming idea to play some practice play with Naughty Or Nice 3, so you can learn the nuances of the game before wagering real money.
This Christmas Game Is Not For Kids
Naughty Or Nice 3 isn't your typical Christmas theme. This version doesn't take place in a friendly and warm cozy house. Instead, the setting for Naughty Or Nice 3 takes place at a car wash with Santa's beautiful helpers wearing bikinis to wash your car further.
Naughty Or Nice 3 Has A Winning Design
Naughty Or Nice is a visual spectacle, but its gameplay is down to earth in various ways. Naughty Or Nice gives its players the interface you need to swing for the stars. Take command of the 30 pay lines and the coin button system through the coin wager system. Naughty Or Nice 3 allows online gamblers to play Naughty Or Nice 3 through the autoplay mode, or you use the manual spin. The choice is yours. If you need additional control, Naughty Or Nice 3 has an options button where players can quickly adjust other game mechanics like the reel speed or the music.
Naughty Or Nice 3 Delivers On Several Levels
Naughty Or Nice doesn't waste any time getting to the finish line. Right away, its players have the chance to win big during the regular gameplay, or they can win further in the exciting bonus rounds. Naughty Or Nice doesn't hold anything back in this regard. We will break down the free spins round in fine detail and the other rewarding bonus rounds.
Take Command Of The Pay Lines
Naughty Or Nice 3 provides an intricate pay line system where players can quickly command the 30 pay lines. Take in the entire action by wagering on the whole 30 pay lines, or you can maneuver on smaller pay lines, thanks to the terrific pay line system available for Naughty Or Nice.
You Control The Bet
Naughty Or Nice 3 also gives the player the power to manage the bet. This unique slot game accepts wagers from a penny to high dollar values.
Meet The Phenomenal Pay Table
Naughty Or Nice 3 doesn't hold back with the lucrative game symbols. We begin with the resounding and rewarding Naughty wild and the Good Girl wild. Both of these women double winning combinations. One can land, or both can land to quadruple your winning pleasure in the process. But, both of these sensational wilds land on separate reels to help spread out the winning odds.
The Naughty Or Nice 3 logo constitutes the scatter symbol in the game. Santa Claus, in his trunks, shells out 500 credits. Angry Mrs. Claus delivers up to 300 credits for five of her on the reel. Finally, we pick up the winning action with the open box and the car wash sign. Both of these boards deliver 200 credits each. The high-value playing cards round out the remaining Naughty Or Nice 3 symbols.
Dissecting The Lucrative Bonus Rounds
Naughty Or Nice 3 doesn't have a shortage of bonus rounds. Depending on the girl that triggers the free spins round, that particular bonus comes with its set of prizes. Naughty Or Nice 3 does have a lucky feature trigger. If you are having a hard time gaming-wise getting into the free spins round, Naughty Or Nice offers a random lucky feature trigger to put you on the winning track.
Win Big In The Free Spins Round
Naughty Or Nice 3 shells out the Naughty girl, and the Nice girl free spins round. If you are playing in the Naughty Girl bonus round, you begin with seven free spins. After that, the Naughty girl either serves as the scatter icon, or she covers the first reel.
If you choose the Nice girl free spins round, you also begin with seven free spins with either the Nice girl covering the entire fifth reel, or she can cover both the fourth and fifth reels during the Naughty Or Nice 3 free spins round. In addition, Naughty Or Nice 3 carries on the progressive jackpot that can hit randomly after any spin.
Marvel At The Return To Player
Naughty Or Nice 3 carries over Real Time Gaming's legendary return to player. So, cast your bets with peace of mind.
A Resounding Rating For This Game
Naughty Or Nice 3 continues drawing excellent and positive reviews for this unique Christmas-themed slot game.
Maybe You Can Win
Naughty Or Nice 3 is widely available at many Real Time Gaming Casinos. In addition, there are promotions like the welcome bonus for new players that can be applied to this captivating slot game. Other popular prizes include free spins packages and cashback bonuses that you can swiftly use for your winning advantage playing Naughty Or Nice 3. Another unique avenue is through no deposit awards.
Having Fun Washing The Car
Above all, Naughty Or Nice 3 is a game that is meant to be enjoyed. Remember, you can play practice rounds to familiarize yourself with Naughty Or Nice 3.
Are You Ready To Make A Sensational Real Bet?
That's no problem. The same online casino hosting Naughty Or Nice 3 has many banking options. Credit cards like Visa and MasterCard are friendly and free options. Depending on the online casino, you might be able to use Bitcoin or similar cryptocurrencies. In addition, there might be exclusive crypto promotions to encourage you to use it.
Playing Naughty Or Nice 3 On The Go
Naughty Or Nice 3 works nicely on home computers, and it works like a charm on today's mobile devices and tablets.