Coyote Cash Slots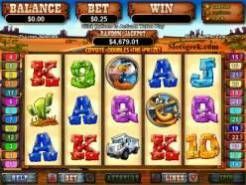 Current Jackpot
$1,670.83
Play Now
Following in the aftermath of Wiley E. Coyote, Real Time Gaming goes all in for their hit slot game Coyote Cash .
The Inside Details About Coyote Cash Slots
Coyote Cash is a 5 reel, 25 pay line, video slot, that takes you right into the heart of an animated cartoon romp. There are even winding roads, deserts and cactus. Instead of the Coyote hounding, the Road Runner, there is a determined Eagle, law agent in hot pursuit of the Coyote who has gone on a crime spree. The symbols in the game are the Police Eagle, The Coyote Robber, a bag full of stolen goods, a knife with a rattle snake, an armored truck, a cactus, an animal skill, along with the playing numbers, nine, ten, jacks, queens, kings, and aces. The wild symbol in the game is none other than the Coyote thief himself, which will sub for the other icons in the game with the exception of the scatter icon, which is the bag of loot. Landing the coyote will double your win, complete with interesting sound effects. As mentioned earlier the bag of loot is the scatter symbol. Landing three on the pay line means you are given 20 free spins. And while in the free spins mode, winning combinations are impacted by the bags of loot. All in all, it is possible to receive a winning multiplier as high as 200 times. To start this intense chase between the Coyote and the Eagle, all you need is a penny to spins the reels. The maximum bet per pay line stands at five dollars, with the max bet per spin standing at $125. There is a progressive jackpot that can be won at complete random. There is a jackpot monitor to keep track of the progressive meter. There is a menu button that lets you tweak game settings and sounds. A help button is also there to go over game icons and their amounts. Coyote Cash, is available at many online casinos to be played either straight online or downloaded to your personal computer or your preferred mobile device so you can play anywhere and at anytime at your leisure. Real Time Gaming proudly presents Coyote Cash, a 5 reel wonder full of the animated cartoon spirit. It's up to you to catch the coyote and win big time!